where savvy women
can achieve their potential and live their best life!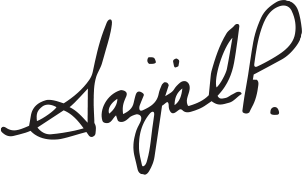 Welcome to Saij Elle, where savvy women can achieve their potential and live their best life!
As women, we've made incredible strides professionally and we earn more than ever before.  In fact, our wealth is growing at a faster rate than men's and even faster in Asia.
Do you want to know something else that's encouraging? Studies show that women outperform men in managing and investing money.
So when it comes to controlling our financial destiny, why are we women falling short?
Regrettably, it's because our institutions are failing us.
Take our education system.  We're taught home economics to prepare us for life, but we're not taught best practices in managing our money. Then there's the financial industry; predominately run by men with advice targeted to men. So when research shows that women are less confident than men when it comes to managing their wealth – is it a wonder when our goals are misunderstood and our needs aren't met?
For various reasons, women need financial security now more than ever.
I'm here to tell you however, that reaching your financial aspirations is attainable. And most challenges in getting there can be overcome.
You don't have to spend years studying finance. Building wealth to live your best life is 20% knowledge AND 80% attitude. That's right! I'm where I am because of the values I hold. I understand my strengths and weaknesses when it comes to spending, saving and investing and have devised a plan that works for ME. And I expect any one who is managing my money to work in my best interest – 100% of the time.
If you're here, I know you want to confidently build a financial future that enables you to live to your fullest potential.
YOU can do this. YOU need to do this.
No one else should do this for you. Not your parents, your spouse, your children or even your financial advisor. Because no one knows what money means to you more than you do.
It's Saij Elle's mission to empower, engage and inspire you to reach the financial goals that matter most to you. We're committed to collaborating with financial services companies to better serve your needs, and to work with media to spotlight the opportunities and challenges in achieving financial freedom for women.
It's wonderful to see you investing in your future.  Sign up for our monthly newsletter below and join the Saij Elle community, where we talk money – a woman's way.